Research has shown that telomeres (TL) are markers of biological age in the genetic material. These are the non-coding regions of chromosomes. As well as genetic factors, several lifestyle factors can affect telomeres, such as physical activity and smoking. There have also been studies that show an association between diet and telomere length. Now, a new study titled, "Ultra-processed food consumption and the risk of short telomeres in an elderly population of the Seguimiento Universidad de Navarra (SUN) Project," is being presented at this year's European and International Conference on Obesity (ECOICO 2020), held online this year (1-4 September). The study authors included Lucia Alonso-Pedrero, Professor Maira Bes-Rastrollo, and Professor Amelia Marti, University of Navarra, Pamplona, Spain.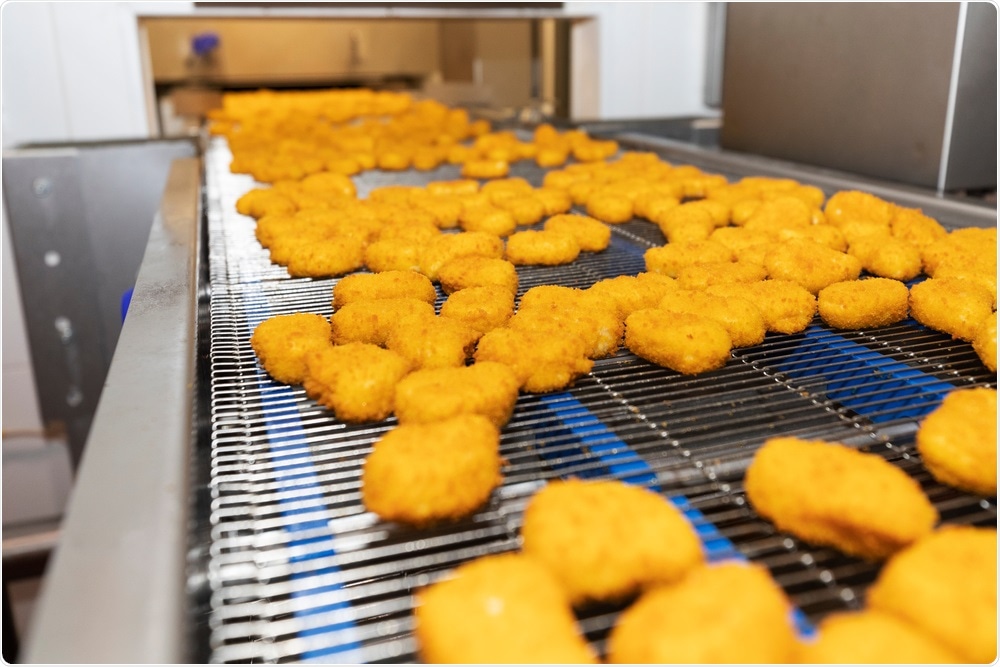 Image Credit: Andrew Makedonski / Shutterstock
What was this study about?
Diet influences oxidation, and inflammation mechanisms.  These oxidative changes and inflammation processes have a role to play in biological age markers such as TL.  With each cell division, the TL shortens. Thus with age, there is a considerable shortening of the TL.
The researchers added that there is a meteoric rise in the consumption of ultra-processed foods (UPF) around the world, and these foods are associated with several disease processes such as obesity, diabetes, and heart disease. These are highly profitable for the manufacturers due to low-cost ingredients and long shelf-life and are lucrative to the consumers.
This study aimed to check for an association between UPF consumption and the risk of having shorter telomeres in elderly individuals. This was part of the Seguimiento Universidad de Navarra (SUN) Project.
There have been no studies that looked for the association of UPF consumption and TL using the NOVA classification. This was the first of its kind. The NOVA classification, wrote the researchers, is the "classification system based on the nature, extent, and purpose of industrial food processing."
What was done?
This was a cross-sectional study, wrote the researchers. This means a total of 886 participants, including 645 men, were included in the study. The participants were aged between 59 and 71 years and were recruited in the SUN project in Spain between 1999 and 2018.
From the participants, saliva samples were collected, and the telomere length was measured using real-time qPCR at baseline. Using a 136-item food questionnaire, data on the consumption of ultra-processed foods was gathered. The authors looked at the association between consumption of energy-adjusted UPF and the risk of having short telomeres. UPF consumption was classified into four quartiles – low, medium-low, medium-high, and high consumption. Telomere length shortening was measured as less than 20th percentile of the population.
What was found?
Results revealed that participants who had the highest consumption of UPF had twice the risk of having short telomeres compared to those with the lowest consumption of UPF. The team writes, "Those participants with the highest UPF consumption almost doubled their risk of presenting short TL (adjusted OR: 1.82; 95% CI: 1.05, 3.22; P-trend = 0.03)."
They also noted that those who did not adhere to the Mediterranean diet consumed more UPF. They wrote, "Dairy products, processed meats, pastries, and cookies were the main foods contributing to the total UPF consumed." Those who were in the high quartile of consuming UPF also had a family history of heart disease, diabetes, abnormal body fats, and also had a habit of snacking between meals. They consumed more saturated fats, total fats, polyunsaturated fats, cholesterol, fast food, sodium, processed meats, etc. and ate less of protein, carbohydrates, fiber, olive oil, fruits, vegetables, micronutrients such as minerals and vitamins.
As the consumption of UPF rose, the chances of having shortened telomeres also increased significantly. With each of the quartiles above the lowest, there was an increase in TL shortening by 29 percent, 40 percent, and 82 percent respectively for 'medium-low,' 'medium-high,' and 'high' UPF consumption groups. In addition, those that consumed more of UPF were also at a greater risk of depression. This was especially true for those who had lower levels of physical activity. The risk of other conditions such as high blood pressure, obesity, deaths due to any cause (all-cause mortality) also rose with UPF consumption.
Conclusions
The researchers wrote in conclusion, "A higher consumption of UPF (>3 servings/d) was associated with a higher risk of having shorter telomeres in an elderly Spanish population of the SUN Project." They called for more studies that would follow up subjects over decades to see if there are significant changes in the length of the telomeres with long term consumption of UPF compared to those who did not consume processed foods and had a healthier diet.